We continue to help a growing list of organizations throughout the U.S. leverage the power of information technology to increase productivity, maximize profitability, and enhance all aspects of customer service.

We invite you to explore each of these target areas and contact us with any questions you might have.
Our Summary of Capabilities presentation provides a downloadable version of PCG's business and technology focus.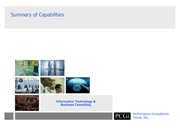 Business Solutions
We provide customized solutions pertaining to spend analysis methodology, project management and disaster recovery and business continuity planning to help you enhance business efficiency, maximum profitability, and strategic expansion.
PCG's Spend Analysis methodology focuses on helping companies transform their procurement operations to deliver substantial and real savings to the enterprise. We assist clients in reducing their costs by refining and perfecting their supply chain processes. We offer advanced spend analysis, strategic sourcing.
PCG partners with its client organizations to execute their business strategies through the successful implementation of projects.
Whether due to natural disaster, human error, or system failure, unplanned system outages can occur at any time. As businesses and business processes become increasingly digitized and reliant on technology, protecting the IT infrastructure is a mission critical concern.