We continue to help a growing list of organizations throughout the U.S. leverage the power of information technology to increase productivity, maximize profitability, and enhance all aspects of customer service.

We invite you to explore each of these target areas and contact us with any questions you might have.
Our Summary of Capabilities presentation provides a downloadable version of PCG's business and technology focus.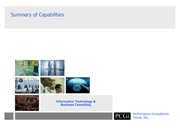 IT Solutions
We provide customized solutions pertaining to information technology, website development, staff training and customer support to help you enhance business efficiency, maximum profitability, and strategic expansion.
Your computer systems are critical in the day-to-day operation of the organization. PCGi can manage the repair, upkeep and maintenance of your computer systems by performing scheduled analysis and optimization of your systems to ensure that they are running as efficiently as possible.
With the plethora of new computer applications and programs that are continually released into the business place, it is important to keep your staff in from of the curve to make sure that they are as productive and effective as possible. PCGi provides training for most popular software products and applications. We can train in your office or facility, or in our training facility.
Whenever your staff needs assistance with computers, networks, programs or applications, our 24-hour support center is available to troubleshoot problems, and get your staff back on track as quickly as possible!