We continue to help a growing list of organizations throughout the U.S. leverage the power of information technology to increase productivity, maximize profitability, and enhance all aspects of customer service.

We invite you to explore each of these target areas and contact us with any questions you might have.
Our Summary of Capabilities presentation provides a downloadable version of PCG's business and technology focus.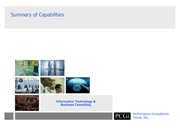 Our Core Competencies
Since 1988, PCG has been serving major corporations, government at all levels, nonprofit organizations, and multinational institutions. The firm's services are organized around four major competencies.
Whether your staff needs computer training, business management skills, or customized training solutions, PCG can provide a total solution for your organization's skills building and training needs.
PCG's Help Desk & Tech Support give organizations the freedom to concentrate on their core competencies while giving their employees or customers a pleasant, professional, and competent Help Desk experience.
Consulting
PCG's strategic Outsourcing Service provides expertise in the management of clients' applications and information technology (IT) systems.
PCG partners with its client organizations to execute their business strategies through the successful implementation of projects.