We continue to help a growing list of organizations throughout the U.S. leverage the power of information technology to increase productivity, maximize profitability, and enhance all aspects of customer service.

We invite you to explore each of these target areas and contact us with any questions you might have.
Our Summary of Capabilities presentation provides a downloadable version of PCG's business and technology focus.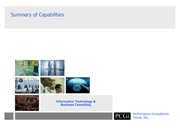 Agile Web Solutions
The new Agile Web Solutions division of PCGI was launched to help small businesses realize and exceed their success objectives by leveraging the most reliable online technologies available today. Our solutions are in fact agile and can be customized to fit any organizations current situation whether it has current solutions that are under-performing or no solutions at all. The following competencies help us ensure your success: